The Inspiration: Marion Cotillard in an absolutely stunning dress and wedges.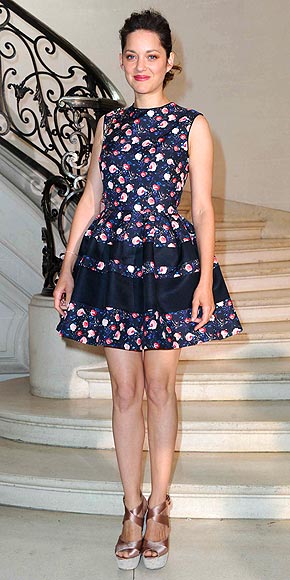 Gorgeous, right?
So, I tried, really I did, but I don't have anything even approaching similar. So. I went with blue and black.
Yeah, disappointing, I know. Shorts and tee do not echo a gorgeous dress. But this is what I wore. Because, even if I owned anything that gorgeous, where the skittles would I wear it?
This is what happens when the kiddo gets in on the fun. An almost headless and footless mommy. ;)
And here we have attempt numero uno at outfit pics. Humidity. Nice, huh?
Linking up today with
Two Birds
,
Monday Mingle
,
YOLO
, and
Visible Monday
!
And just so you don't leave completely dispirited by my boring style, here are a couple of stunning dresses that I wish I were wearing. And those wedges down there, I want those. Never mind that they cost more than my food budget for an entire month. I still want them. :)